The Institute for Computing in Research Announces Portland Cohort
6 new interns set to explore computing research and software freedom in Portland
August 3, 2021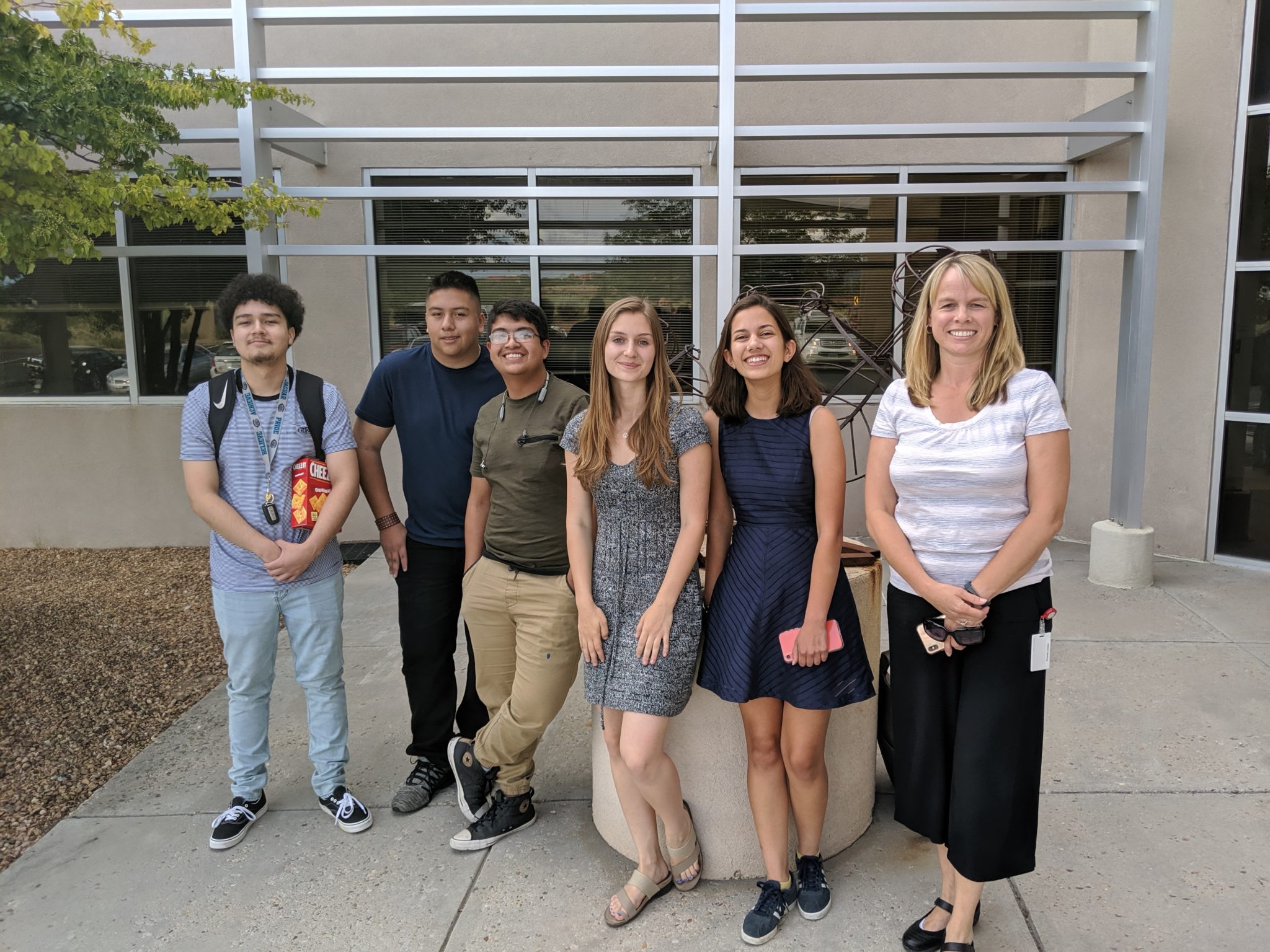 2019 Santa Fe interns with Program Manager, Rhonda Crespo
© Mark Galassi, CC BY-SA 4.0
One of Conservancy's member projects The Institute for Computing in Research is launching a new branch of their mentoring and internship program for high school students this week in Portland, Oregon. This unique paid internship introduces high school students to software freedom as part of a summer research position that focuses on computing in the sciences. We're very happy to be hosting and facilitating an initiative that is lending long time experience to fostering a new generation of scientists.
The program has run in Santa Fe, NM in the past, due to its founder's proximity to the Los Alamos National Laboratory, but this year it has expanded to a second cohort in the pacific northwest. Portland has a rich history of technology and computing institutions (the so called Silicon Forest), so we're very hopeful that this program will help get more young people involved with STEM minded trajectories in their careers. Mark Galassi (a board member of Conservancy's) founded the program in 2019 and this is the third year it has run. In it's first year 5 internships were given out and 9 in 2020. This year there are 17(11 in Santa Fe and 6 in Portland)! Focusing on pairing 10th, 11th, and 12th graders with mentors in the sciences, the students will work on computing focused research projects in various disciplines. Supported by academics at Portland State University, Reed College, and Oregon State University, the cohort in Portland has projects in computational biology, natural language processing, pure math, and AI and game theory.
Exposure to mentors, communities and the varied academic disciplines is a great opportunity for these budding scientists. Bridging the gap between programs like Outreachy (another member project of Conservancy's, Outreachy, which provides internships to historically underrepresented groups in technology), Google Summer of Code and other open source internship options with the academic programs like Research Experience for Undergraduates, the ICR is filling a vital role in connecting FOSS and the academy. Showing students computing tools used in industry and the workflows and day to day experiences of academics doing research. Typically these kind of positions are unpaid and not everyone has the luxury of working unpaid for a summer. It's this kind of equitable thinking that makes the ICR standout to us and why we are pleased to work with them.
This pilot program in Portland is supported by funding from the Oregon Community Foundation with space donated by Beaverton Round. If you would like to donate to The Institute for Computing in Research or The Software Freedom Conservancy please visit our support page.