March 25, 2019
We are proud to announce that our Director of Community Operations, Deb Nicholson, won this year's Award for the Advancement of Free Software. The award was presented on Saturday, March 23rd at LibrePlanet, the Free Software Foundation's annual conference at MIT's Stata Center. The Free Software Foundation gives out two awards each year, one for the Advancement of Free Software and one for Projects of Social Benefit.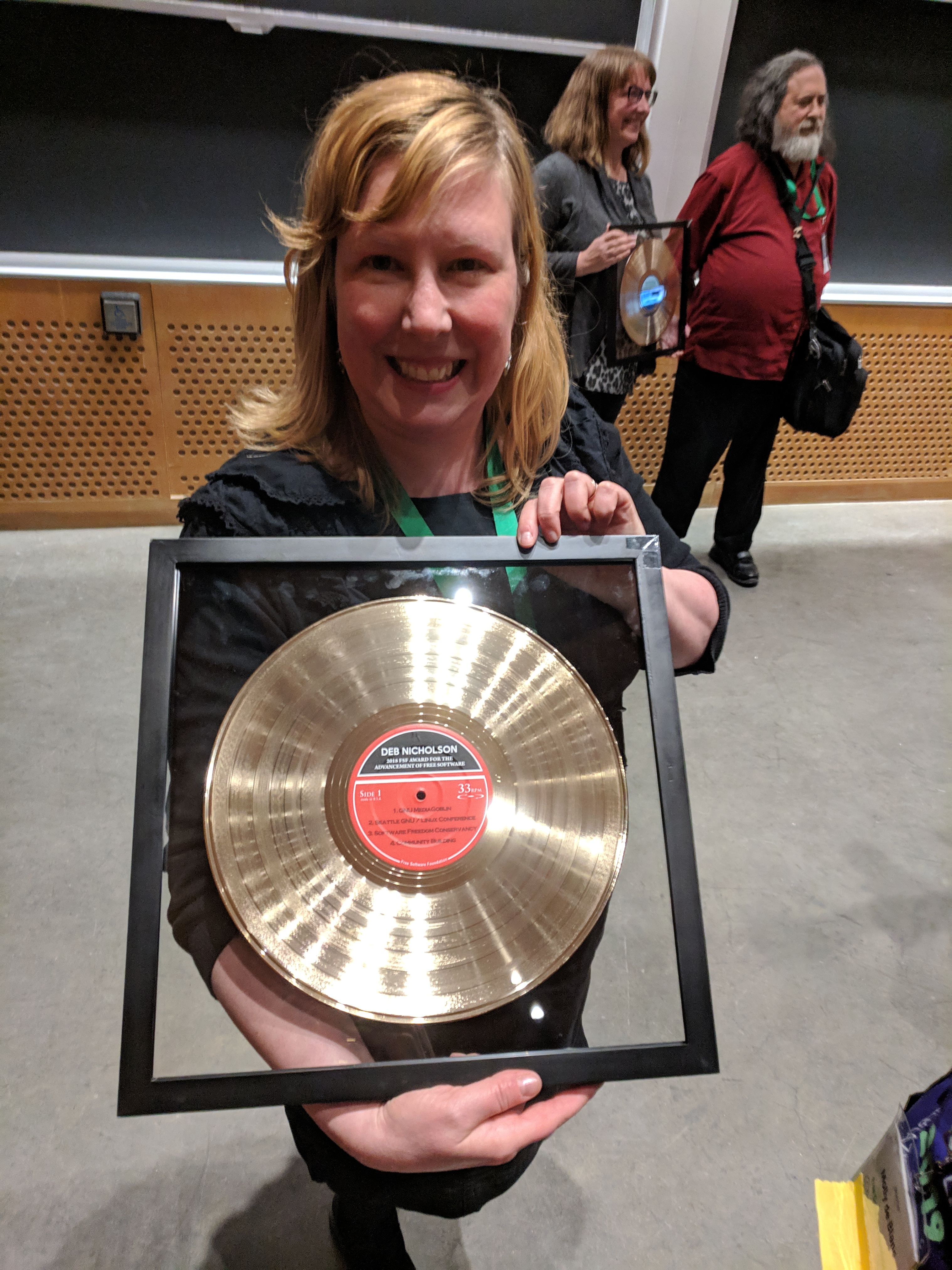 Deb receives the Award for the Advancement of Free Software for her work to bring free software to artists and musicians with GNU MediaGoblin as a Community Liaison and as a founding board member of Open Hatch, whose mission was to build a welcoming committee for free software. She's also a founding organizer of the annual Seattle GNU/Linux (SeaGL) conference which is committed to surfacing new voices and she works with Conservancy's many projects to help them achieve their goals. She became part of the free software movement in 2006, when she accepted a job with the Free Software Foundation in downtown Boston.
Deb joined the Conservancy team a little less than a year ago. "Free software is critically important for autonomy, privacy and a healthy democracy — but it can't achieve that if it is only accessible for some, or if it is alienating for large swathes of people. That's why it's so important that we continue surfacing new voices, making room for non-coders and welcoming new contributors into the free software community. I also find that in addition to helping us build a better, bigger movement, the work of welcoming is extremely rewarding." said Nicholson.
John Sullivan, Executive Director at the Free Software Foundation adds, "I couldn't be happier about this opportunity for the FSF to publicly honor and appreciate Deb Nicholson. In the many years I've known Deb, I have seen her directly make so many positive changes in the free software movement that I can't keep track: successfully connecting institutional and financial resources with free software projects that need them, organizing impactful conferences, driving program user interface improvements, and many other initiatives that have both brought more users and developers to free software and helped everyone get more work done in critical areas."
"Deb's contributions to the software freedom movement are longstanding and impressive. We at Conservancy are thrilled to see her receive the recognition she deserves," commented Karen Sandler, Conservancy's Executive Director. Deb's work is all the more laudable for her commitment to contribute substantial volunteer hours over a long period of time – even when it wasn't part of her job to do so, she took on the tough problems in free software to help shape a more effective and inclusive movment."
This year's recipient of the Award for Projects of Social Benefit was Humanitarian OpenStreetMap Team (HOT). The award was accepted on behalf of the project by Kate Chapman, who served as their first Executive Director. We're well acquainted with Kate's free software work since she has been serving as a Conservancy Board Director for the last three years. Outreachy, now a Conservancy project, won the Award for Projects of Social Benefit for 2013 and our Executive Director, Karen Sandler won the Award for the Advancement of Free Software last year. We consider it a mark of deep respect that our colleagues think so highly of our work to promote and share the message of software freedom.
About Conservancy
Conservancy, a public charity focused on ethical technology, is the home of nearly fifty member projects dedicated to developing free and open source software. Conservancy acts as a corporate umbrella, allowing member projects to operate as charitable initiatives without having to independently manage their own corporate structure and administrative services.
Thanks to Adam Monsen for the picture! It's available under a CC.BY license.