Announcing the Second Annual CopyleftConf!
February 3rd in Brussels
October 10, 2019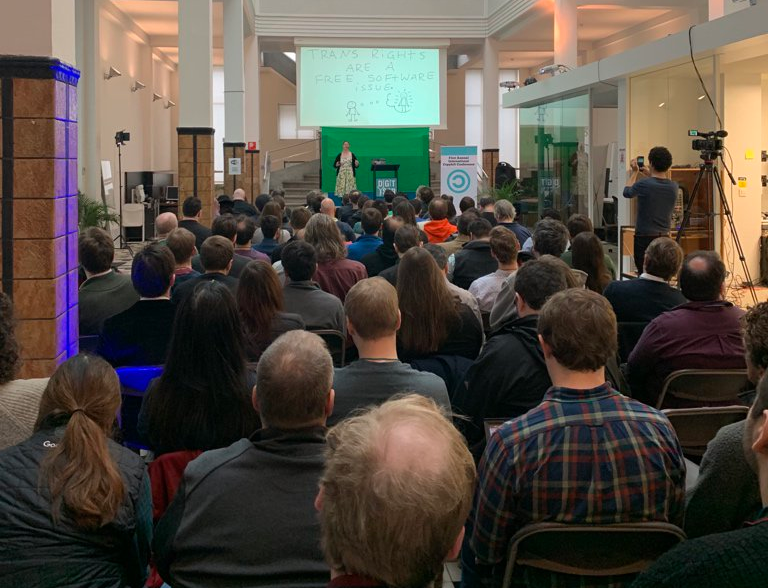 Photo by Leslie Hawthorn, CC BY
Last year's event was the first ever CopyleftConf. It was great! We have some videos up and more are coming. Also, our call for proposals is open now, through the end of the month — we'd love to hear from you.
The response was really positive and we're looking forward to putting on a fantastic 2020 event. Because last year's event was so well attended, we've gotten a larger venue for this year.
Participants from throughout the copyleft world — developers, strategists, enforcement organizations, scholars and critics — will be welcomed for an in-depth, high bandwidth, and expert-level discussion about the day-to-day details of using copyleft licensing, obstacles facing copyleft and the future of copyleft as a strategy to advance and defend software freedom for users and developers around the world.
The event will provide a friendly and safe place for discussion of copyleft as a key strategy for defending software freedom.
Conservancy encourages everyone to save the date of Monday 3 February 2020 in Brussels, Belgium for this second CopyleftConf. We've chosen the date and location to ease travel for those already attending FOSDEM the weekend preceding CopyleftConf.
Important Dates
October 10th, 2019: CFP opens
November 3rd, 2019: CFP submission deadline
November 22nd, 2019: Conference schedule announced
February 3rd, 2020: Conference happens!
Watch Conservancy's RSS feeds for CopyleftConf announcements as those dates approach!